One of the most comforting passages in the Bible appears in the Gospel of John. Jesus has just finished his final meal with the disciples. He washed their feet, a humble act of service that foreshadowed his coming humiliation on the cross. Judas has gone out into the night to meet with the authorities who will send soldiers to arrest Jesus. The disciples are feeling a deep sense of dread. But the Lord says:
"Let not your hearts be troubled. Believe in God; believe also in me. In my Father's house are many rooms. If it were not so, would I have told you that I go to prepare a place for you? And if I go and prepare a place for you, I will come again and will take you to myself, that where I am you may be also. And you know the way to where I am going." Thomas said to him, "Lord, we do not know where you are going. How can we know the way?" Jesus said to him, "I am the way, and the truth, and the life. No one comes to the Father except through me" (John 14:1-6).
Jesus says, "Let not your hearts be troubled." And yet, his own heart is heavy. In an hour or two, he will lie facedown among the olive trees in Gethsemane and plead for deliverance, his sweat tinged with blood.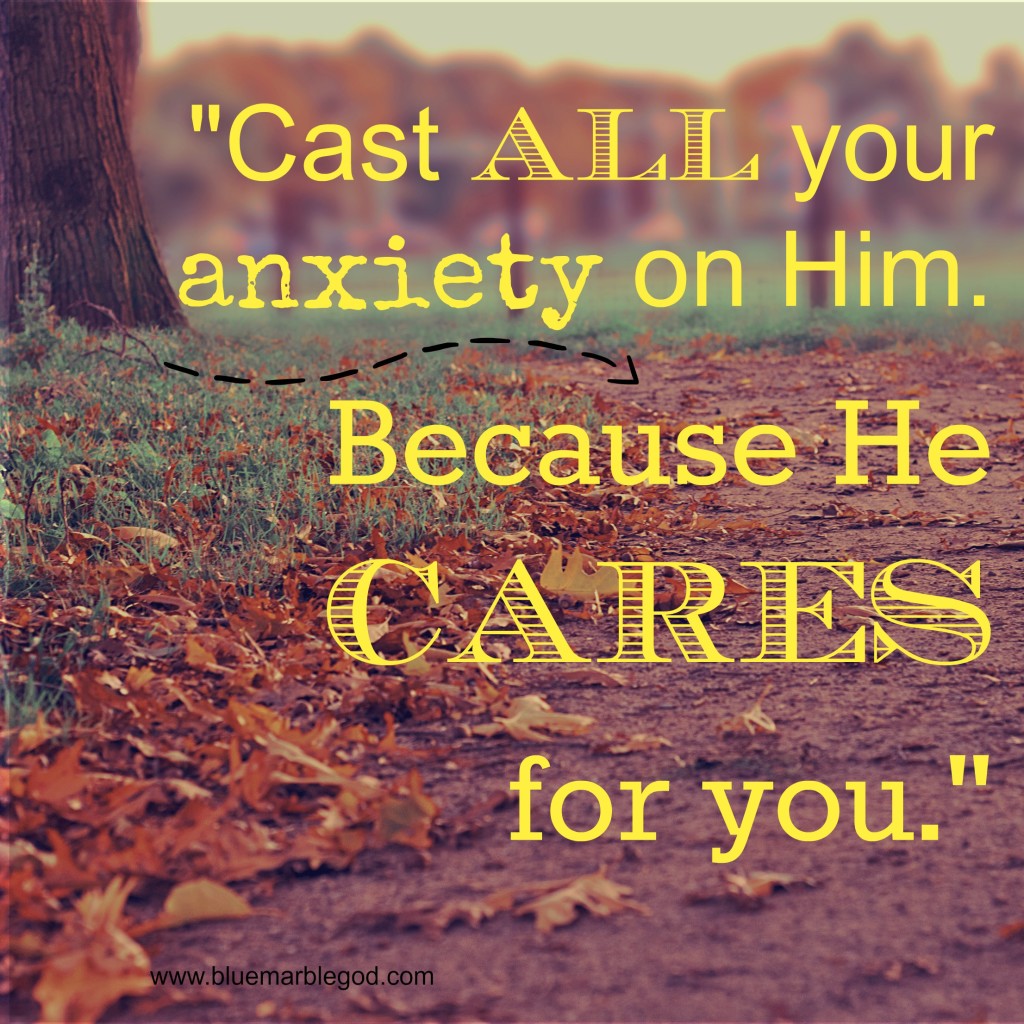 We tend to worry about things that may happen or could happen. Jesus never did that. But he did feel intense emotional anguish as he thought about the ordeal that definitely would happen. So why did the Lord encourage the disciples to feel easy when his own heart was so heavy? The answer is simple and beautiful. Jesus wants to take our troubles on himself. He is like a tender father who suffers all sorts of hardships so that his little children can enjoy a secure and happy childhood. The apostle Peter encourages you to cast "all your anxieties on him, because he cares for you" (1 Pet. 5:7).
Of course, Jesus knew  that his disciples would suffer real heartaches as long as they lived in this world. As they walked together toward Gethsemane, he told them: "They will put you out of the synagogues. Indeed, the hour is coming when whoever kills you will think he is offering service to God" (John 16:2). This is why the promise of a room in the Father's heavenly house is so comforting. In this world, you and I have so many problems – sickness, loss of loved ones, painful family relationships, emotional wounds and insecurities, financial struggles, and job stress. But this world is not it. You are a traveler passing through. You have "an inheritance that is imperishable, undefiled, and unfading, kept in heaven for you" (1 Pet. 1:4).
But does Jesus intend for us to trudge along in despair until our glorious destiny is realized? Absolutely not! Our journey on this earth is not a curse. It is a blessing, a gift made lovely by Christ himself. He is the way, the truth, and the life. Jesus is our clear path to union with God. He is our ultimate reality, the perfect standard by which all else is measured. He is the source of eternal life and our reason for living now. "Though you have not seen him, you love him. Though you do not now see him, you believe in him and rejoice with joy that is inexpressible and filled with glory" (1 Pet. 1:8).
"Don't let your hearts be troubled," Jesus says. "Trust in God, and trust also in me."
My love to all,
David